Why volunteer in elections?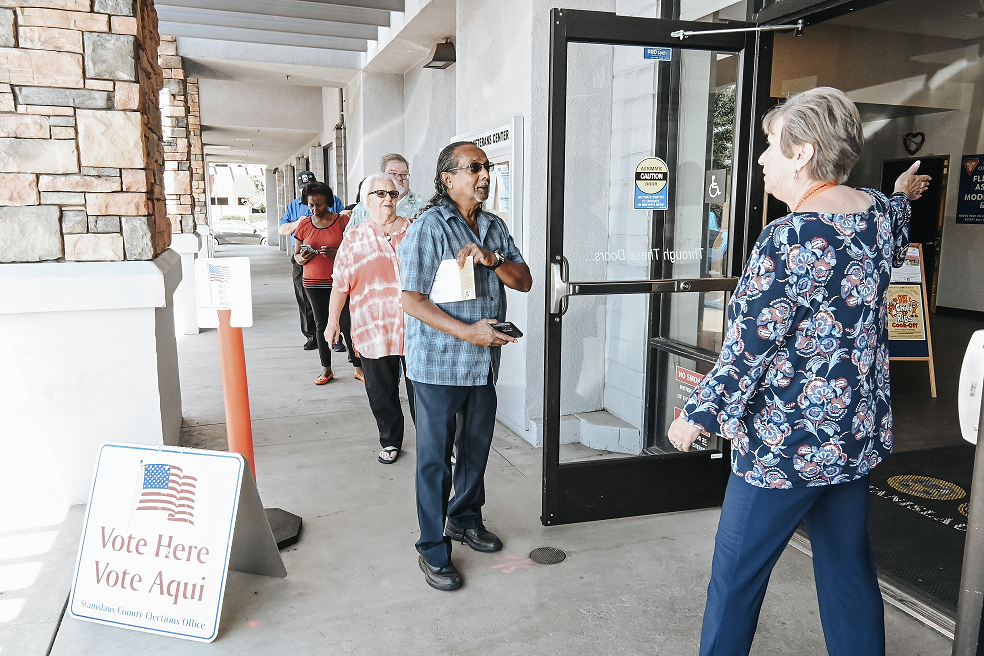 Detail-oriented members of the community are needed to help maintain the integrity of elections in Stanislaus County. Current election workers have shared their experiences and reasons for committing years of service to Stanislaus elections. Here are their testimonials:
"I feel very grateful to have worked alongside so many honest, conscientious and civic-minded fellow Stanislaus County citizens. I have seen how every one of them performs his or her responsibilities with the utmost care, and how they interact, in a respectful and impartial manner, toward all voters, no matter what their party affiliation. In addition, I have observed and participated in the many, strictly-adhered to processes, regarding the handling of ballots, which are implemented in the Stanislaus County elections office. Everyone involved, whether they are employees or volunteers, does their very best to carry out their duties in a professional and ethical way, to assure fairness and integrity in our elections." – Mark
"I have been involved in about 8 elections now at different positions and loved every minute! The people working with, the Electorate and all. Great experiences! Signed on at first because I felt it my Duty as a citizen of this County." – Richard
"I was amazed as a voter stepping behind the scenes to be a volunteer poll worker, the in-depth training, the amount of laws to protect the sanctity and accuracy of the vote, and the fun of working with the public. Working as an Election Clerk at Stanislaus County Registrar of Voters has been so educational, great variety of work, the excitement of new training, setting up the Vote Center with a team, and the satisfaction of helping voters to vote, reregister, update their address and explaining the process so the voters feel confident in our county's ability to hold an honest and accurate election. This is the best job ever!" -NoraLynn
General Duties at Vote Centers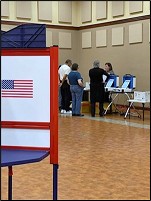 All vote centers open three days before Election Day, and several open earlier. Vote centers are open 8:00 a.m. to 5:00 p.m for early voting and 7:00 a.m. – 8:00 p.m on Election Day. The Election Office schedules volunteers based on each vote center's need as it fits with the volunteer's availability.
Greet voters and provide friendly customer service
Help keep voter lines organized
Assisting voters using ballot-marking devices
Issuing paper ballots to voters
Assisting voters with completing forms
Setting up & taking down voting equipment
Accept ballots at curbside ballot drop-off locations
Volunteers earn a stipend of $150 per early voting day and $235 on Election Day.
General Qualifications and Requirements
18 years of age or older
U.S. citizen & registered California voter OR legal permanent resident of the U.S.
Read and write English
Other criteria include:
Must attend training prior to serving each election.
Must have a reliable email address that is checked regularly.
Be able to follow written and verbal instructions.
Can lift 20-30 pounds and in good physical condition that allows sitting and/or standing for long periods of time.
Individuals who have concerns about the physical requirements because of a medical condition are encouraged to contact the Elections Office about possible accommodation.
Have reliable transportation to training class and to their assigned voting location on assigned days.
Some travel might be required as volunteers are needed to support vote centers throughout Stanislaus County.
Individuals that are bilingual in Assyrian, Khmer, Punjabi and/or Spanish are encouraged to apply.
How to Apply
Complete the Volunteer Application and return by email to pollworker@stancounty.com or by mail or in person to:
Stanislaus County Registrar of Voters Office
Attn: County Employee Election Volunteer Program
1021 "I" St. Suite 101
Modesto, CA 95354
All volunteers must meet the "General Qualifications and Requirements" listed above. If you are a high school student, county employee, or a member of a local non-profit organization, see below to learn more about specific requirements and instructions on how to apply.
Questions? Call the Election Staffing Unit (209) 525-5233 or email pollworker@stancounty.com
Student volunteers earn the daily stipend and community service hours! If you are in high school and interested in volunteering, see your school coordinator to apply. Students must complete requirements set by their individual high school to receive school credit.
Student Volunteer Requirements (CA Elections Code §12302)
Student is at least 16 years old on or before Election Day.
Student has a grade point average of at least 2.5 on a 4.0 scale.
Student is a U.S. citizen or legal permanent resident on or before Election Day.
Student is in good standing attending a public or private secondary educational institution.
Other criteria include:
Student must be nominated by a school official.
Student must complete the Student Election Volunteer Application. A parent/guardian signature is required. Incomplete applications will not be considered.
The Board of Supervisors 2003 County Employee Poll Worker Program authorizes county employees who voluntarily use regular days off, vacation days or compensatory time off to serve as election workers. Volunteers will receive the applicable stipend for each day worked at a vote center.
County employees must have written permission from their supervisor.
Your organization can "adopt" a vote center by providing up to 5 volunteers per day to serve at a location.
All vote centers will be open for early voting the Saturday, Sunday, and Monday before Election Day (a total of 4 days) from 8 am to 5 pm.
All locations will be open on Tuesday, Election Day, from 7 am to 8 pm.
There must be a bilingual Spanish-speaking worker at every vote center each day.
A stipend will be paid per volunteer position per day, which can be donated to your organization.
All volunteers must meet eligibility requirements.
All volunteers will be required to attend a 3-hour training class.
Does your organization have a facility that can be used as a vote center?
Receive an additional stipend of $120 per day by providing a facility that meets the criteria!
Locations are surveyed in advance for ADA compliance, connectivity, and power supply for equipment.
Facilities must be a minimum of 1200 square feet.
Important considerations include but are not limited to proximity to public transportation, population centers, language minority communities, and access to free and accessible parking.
Disclaimer: The information contained in these pages was valid at the time of publication. The County Clerk / Recorder / Registrar of Voters reserves the right to modify, update, change or make improvements at any time, without notice, and assumes no liability for damages incurred directly or indirectly as a result of errors, omissions or discrepancies.